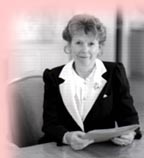 Jeannine C. White, RN, MSN, CNS
CEO, Quality Assurance Consulting
Registered Nurse
Clinical Nurse Specialist
Master's of Science in Nursing - Oregon Health Sciences University
Treasurer, National Association of Clinical Nurse Specialists (4 years)
Nominating and Legislative Committee Member of NACNS
Published in the March, 2000 issue of Clinical Nurse Specialist
Member - Sigma Theta Tau


Ms. White has served in the healthcare industry since 1965. She worked for the Federal Health Care System until 1996, primarily in the acute care arena, providing direct patient care and performing administrative duties. In 1996, she became employed by the Washington State Department of Health as Boarding Home licensing surveyor, complaint investigator, and initial boarding home licensing inspector. Her vast experience with the geriatric population has prepared her with the skills and knowledge needed for evaluation of assisted living facilities and quality of life issues.
Through her work, Ms. White has developed patience, compassion and empathy for elderly, confused and /or distressed residents; and, she puts Resident's Rights at the forefront of residential care. Her work with Alzheimer's residents has qualified her as an "expert witness" in the legal realm.
Her extensive experience in staff development and patient education fully qualifies her for training caregivers in assisted living settings. She employs a variety of teaching techniques that help students learn the skills necessary to care for residents. Response from her students has been very positive.
As a Clinical Nurse Specialist, Ms. White's graduate degree has prepared her for a role that serves three important spheres of influence in the geriatric community: facility management, residents and their families, and care providers and other staff. Her education and hands-on experience provide the knowledge necessary to enhance the efficiency, effectiveness, and overall operation of residential care facilities.